Party Bets Review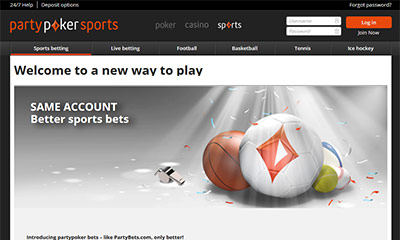 The PartyGaming group has been around since 1997 and launched its flagship site PartyPoker.com way back in 2001. It soon became a public traded company worth billions of dollars. Initially the company focused on the gaming side of gambling with casino-style games, backgammon and poker amongst its most popular sites.
Although the company was founded in the Caribbean, it soon set about taking on markets on the other side of the Atlantic and beyond. After enjoying much success in Europe, the company was floated on the London Stock Exchange in 2005. The company is currently licensed by the Government of Gibraltar and regulated by the Gibraltar Gambling Commissioner under the Gambling Act 2005.
More recently, Party Gaming joined forces with Bwin and expanded further into the sportsbook territory with its Party Bets website, which has since been rebranded as Party Poker Sports.
The company's first attempts to enter the sportsbook market left a lot to be desired. For a brand with such a big reputation in the gambling world, the Party Bets website did not live up to expectations and left many punters unimpressed. The site was not terrible, but it was not up to scratch when compared to their popular poker, casino and gaming portals
Now operating under the Party Poker tag, the company has tried to address some of the issues that were highlighted by clients who used the previous incarnation of the site. So how do they stack up when compared to the other big players in the online gambling world?
Betting Choice
First of all, we should take a look at the most important aspect for most bettors which is choice of markets and value offered.
Party Poker Sport makes the bold claim that they offer the "world's biggest betting line-up on more than 90 different sports." That is a huge number of sports, so let's see how that claim stacks up.
A quick look on the site during the review revealed less than 90 sports available but of course, more like 40 in fact. However, many of the sports they offer may be seasonal. , we did find sports such a bandy, cross country skiing, speedway and chess, so they do seem to delve into plenty of niche markets. In major sports such as football, there are plenty of regions covered, offering more than enough choice for most bettors. However, the odds are not the most competitive around.
The new layout and interface is a vast improvement on the old one with live betting opportunities displayed on the main page along with a calendar of upcoming events. These are followed by upcoming events and highlights. Picking a couple of random international football matches revealed more than 200 markets within a single event, not a bad choice by any means and much more than is offered by many of the more popular sites.
Each bet option, including selection and odds, takes the form of a large button so placing a bet in simple. All selection appear instantly on the bet slip to the right-hand side of the screen. The collaboration with Bwin appears to have given them a more focused layout which is more in line with other major European betting sites. Most events have a statistics symbol that allows you to do some basic research before placing a bet. The stats are provided by the reputable provider Betradar.
Poker players get their own mobile app but sports customers must navigate to the mobile version of the website to bet online. This is not much of a problem because the site is well optimised for most devices. The mobile site is fairly easy to navigate and just takes few minutes to get used to. While a mobile app would be nice, they often do exactly the same job as the mobile and the lack of such a feature is not unusual amongst some of the big betting companies. Therefore, it is hard to criticise too much for this.
Previously, the sportsbook felt much like an add-on to the main poker site, rather than a standalone sports suite. And while, there has been improvement in this area, the site has yet to come into its own as a sportsbook. Further tweaking is needed to really bring it to the fore.
Withdrawals and deposits
Customers can fund their accounts, wager and withdrawn proceeds in several different currencies including USD, GBP, AUD, EUR and JPY.
Money can be deposited or withdrawn using the following methods: Visa MasterCard Instant Bank Transfer Bank Transfer Maestro GoPlay MasterCard EntroPay Paypal Neteller Skrill Paysafecard Diners Club
Withdrawal methods are limited depending on the payment type used for the initial deposit. Clients in Bulgaria, China, Hong Kong, India, Indonesia, Iran, Israel, Malaysia, South Korea, Taiwan, Tanzania, Turkey, United States and Yemen are currently unable to use Party Poker Sports.
Bonuses and offers
At the time of the review, there were no incentives, bonuses or sign-up offers available for new customer. This is rather disappointing and is something that the company must look at if it is going to attract new customers to its format. All the big players now offer enticing sign-up offers and ongoing bonuses. And many punters may not even open an account with a company that does not offer a sign-on bonus just in case they miss out at a later date.
Customer Service
With a large portfolio of gaming suites serving a huge number of countries, Party Poker Sports have made sure there is plenty of support for its growing customer base.
The 24/7 contact options include live chat and telephone, while email addresses are also provided for those who are happy to wait a couple of hours for a response. In addition, there is a comprehensive section covering the most frequently asked question to help you find a rapid answer to your query.
Conclusion
At the moment, the Party Poker Sports site feels like it is geared towards the company's large number of existing customers who frequent the Poker and Casino sections of their website. However, the latest incarnation has made some vast improvements to what was on offer just a few months ago and it now feels less like an inferior subsection of the main site. So it appears that the company is heading in the right direction.
If they start offering some decent bonuses and incentives and sharpen up their price, they could be one to a winner as the new layout if very pleasing on the eye and the interface is very user-friendly.
What's more, there is a great choice of markets and it is good to see some niche events covered at this early stage. As a result, this could be a site worth following over the next year or two.
Such a large company with a big reputation in the gaming world should be able to jostle their way into the highly-competitive sportsbook market. They have the funds, the systems and the expertise to get it right, so we expect them to keep improving and hopefully come up with something new and innovative to worry their rivals. But in the meantime, they offer a reliable service with good support that provide a decent alternative from the usual suspects.